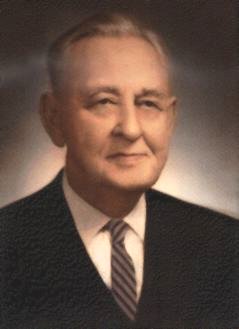 | | |
| --- | --- |
| | |
| Name at birth: |  William Howard Ross |
| Date of birth: |  18 09 1879 |
| Place of birth: |  Holmes County, Ohio, USA |
| Date of death: |  18 06 1966 |
| Place of death: |  Wooster, Ohio, USA |
| Resting place: |  Wooster, Ohio, USA |
| Submitted by: |  Margaret G. Brauer nee Hawken   (brauer@interaccess.com) |
I remember my grandfather as a wise and compasionate man who provided consistency and a sense of security to my childhood. He also taught me the value of hard work and perserverance and instilled an appreciation for education. The notes below are based upon a paper written by my uncle, Ford Ross, entitled "Reflections of half a century of change".
His father was a school teacher and his mother also taught school until her marriage. When he was 13, his father died leaving his mother a few acres of land and little else. His formal education consisted mostly of the eight grades at the nearby one-room country school, but before many years, after a term at ADA (now Ohio Northern University), he was teaching the school himself, as well as raising strawberries to sell and helping his brother raise food crops for home use. He had a good memory, a quick mind, and a natural talent for public speaking, which he sharpened at community debates at the school and at political rallies. After a few years of teaching, he had saved enough money for one year of law school at the Northern Indiana Law School at Val Paraiso. He always said that he went there instead of William and Mary because he didn't have to change trains to get there. He could get on a Pennsylvania train at Shreve and get off at Val Paraiso. With intensive work and perhaps equally intensive persuasion he received a degree after one year instead of the usual two and after passing the Ohio bar examination was admitted to the Bar in 1903 at the age of 24. Then, being doubtful of his ability to make a living at his intended profession, he taught school again and then became a partner in a grocery store in Shreve before finally opening a law office in Shreve in 1906 having acquired a wife and daughter in the mean time. He also had a real estate liscence and with the aid of some commisions managed to make a living.
Court proceedings were a form of public entertainment. Since there was no television, people had to settle for the real thing and many a farmer on a trip to town spent a few hours as a spectator in the court room. His talent soon came to the attention of older lawyers and he was invited to join a prestigious firm in Wooster (Smyser, Weygandt and Wiser). Through hard work during this time they built up a substantial practice. Notwithstanding his modest background and limited education, he was comfortable with all classes of people and represented many leading citizens in their personal and business affairs, as well as corporations such as the electric company, the gas company and the railroads.
He always took to heart other peoples troubles and he worked very hard at his profession until he attained the age of 50. Then, on the advice of his physician, as he stated, "I ceased working so hard, and from that time on, I did just what I wanted to do." He lived to be 86 years old.
Your loving grand-daughter,
Margaret
---
---