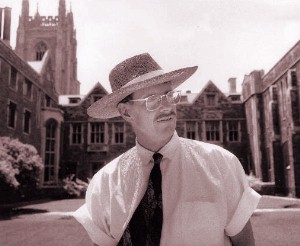 | | |
| --- | --- |
| | |
| Name at birth: |  Michael Lynch |
| Date of birth: |  20/08/1944 |
| Place of birth: |  Dunn, North Carolina, USA |
| Date of death: |  09/07/1991 |
| Place of death: |  Toronto, Canada |
| Resting place: |  Toronto, Canada |
| Submitted by: |  Gerald Hannon    (gerald.hannon@sympatico.ca) |
Michael Lynch: Gay activist, poet, academic, editor from 1981 of the international Gay Studies Newsletter; active in many community efforts (The Gay Alliance Toward Equality [before he'd ever had sex with a man]; the Committee to Defend John Damien; Gay Fathers of Toronto; Whitman in Ontario Conference, 1980; Wilde '82; Sex and the State, 1985). For many years a frequent writer for The Body Politic, a gay liberation magazine in Toronto. Wrote on many subjects, but his early pieces on AIDS ("Living with Kaposi's," paired with a piece by his friend Bill Lewis in a 10-page feature on AIDS) were particularly important. They contributed to the more humane, less panic-driven approach to the disease in Canada. Michael was later a founder of the AIDS Committee of Toronto (1983), AIDS Action Now! and the Toronto AIDS Memorial (from 1988), the Toronto Centre for Lesbian and Gay Studies (1990), and Gay Fathers Toronto. His collection of poems, These Waves of Dying Friends, was published in 1989. Michael died of the disease in 1991. His son, Stefan Lynch, lives in San Francisco, and carries on his father's activism—he has been very involved in COLAGE, an organization for the children of lesbian and gay parents.
Michael could play as avidly as he worked, and would want to be remembered as (probably) the first gay academic ever to be a nude centre-fold subject for bothHoncho and Mandate, and as a sweaty, shirtless 5 a.m. reveller at Stages (Toronto), The Saint (New York) and the Ice Palace (Fire Island). He spent hours, too, at his grand piano and harpsichord, honing his style for Bach or Schubert, or accompanying friends' renditions of the classics of torch. And he loved to host. Many friendships were celebrated over intimate dinners he cooked with panache, and at lavish soirees where he presided as "diva divine."
---
---